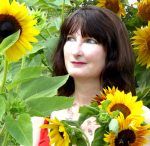 Colleen Rowan Kosinski has always found joy in creating. She received her B.A. from Rutgers University in visual art, and is an alumna of Moore College of Art. She rediscovered her passion for writing after many years as a successful, freelance fine artist. When she discovered children's book writing she knew she had found her passion. She's written middle grade novels, young adult novels, and picture books. Colleen belongs to the SCBWI critique group and is active in her local chapter. You can contact her at info AT ColleenRowanKosinski.com. As a lover of nature and animals, in the spring you can usually find her nursing a sick rabbit or robin back to health. Colleen resides in Cherry Hill, NJ with her husband, three sons, doberman pinscher, rottweiler, and miniature dachshund.
Colleen is represented by Isabel Atherton of Creative Authors Limited.
Order Colleen's latest Picture Book, Lilla's Sunflowers:  at Amazon, Target, Walmart, Barnes & Noble, and your local independent bookseller.